Special sports activities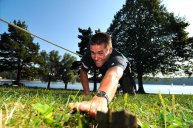 You will certainly not be bored during these non-traditional sports activities. Even if you are not into sports. Our games and competitions will make your feel like a teenager again. Try our competitive games, special ball games, or climb up a climbing wall.
The very game is the objective itself. It is free, voluntary, develops the participants and their social relations, instils a sense of tension and joy, and gives you something you will not experience in your day-to-day life. The game anchors its participants in the present moment and allows them to fully experience the world around them. When was the last time you were playing? When was the last time you had a sincere laugh? We all have our own "little prince" inside but we need to wake him up from time to time.
We offer a wide range of activities of varying intensity: bungge running, bollo-ball, mölkky, kin-ball, ringo, sheet ball, or paintball, and more.
Photo gallery